Social Gastronomy initiatives look for a transformation of positive impact for vulnerable populations through technology.
Original published by Bruno Calixto on O Globo
---
A committee of the Social Gastronomy Movement is in Davos for the Economic Forum, where they announce advances in their digital platform which was created in Brazil to promote the discussion about the power food has as a tool for social transformation in the face of global challenges like hunger, malnutrition, social exclusion and lack of opportunities. The group will hold a breakfast on Thursday morning and will present the movements first 11 HUBs across the world, as well as a documentary teaser ("Table for All- Social Gastronomy dialogues") produced during the Social Gastronomy Summit and the platforms digital programme. One of the members is Kurdish economist Saman Salih, a specialist in Social Gastronomy based in the United States of America.
Whilst on his way to Rio for the meeting of the Social Gastronomy Summit programme, Salih talked with GLOBO about food terrorism, the relationship between hunger and war, and food for people living in conflict zones. "There is a global awareness that hunger is increasing and the autocratic governments are controlling food. Which is a problem because there are solutions", stated the Kurd, who is the Managing Director at FiscalNote, a Washington-based software, data and media company. At 41 years old, he and his family ran away Iraq in 1979.
What is food terrorism?
It is a concept which transforms food into a weapon. It is a very old concept which has been used over time to control populations by terrorist organizations and governments. The idea behind this is to use human despair. It is, therefore, it remains a central point of conflicts across the world.
What is the relationship between hunger and war?
A hungry human can become the worst version of itself. If even with access to food we can reach our worst, imagine without. If hunger is your daily reality, you are capable of doing things you would never imagine doing. This is how terrorist organizations are able to expand their networks, causing people to go hungry and then offer food and say "if you want to eat, you have to fight for me, your only option is to fight." Hungry, you can say yes and kill someone. And, if necessary, you leave your country. Food in exchange for control is the easiest way to control.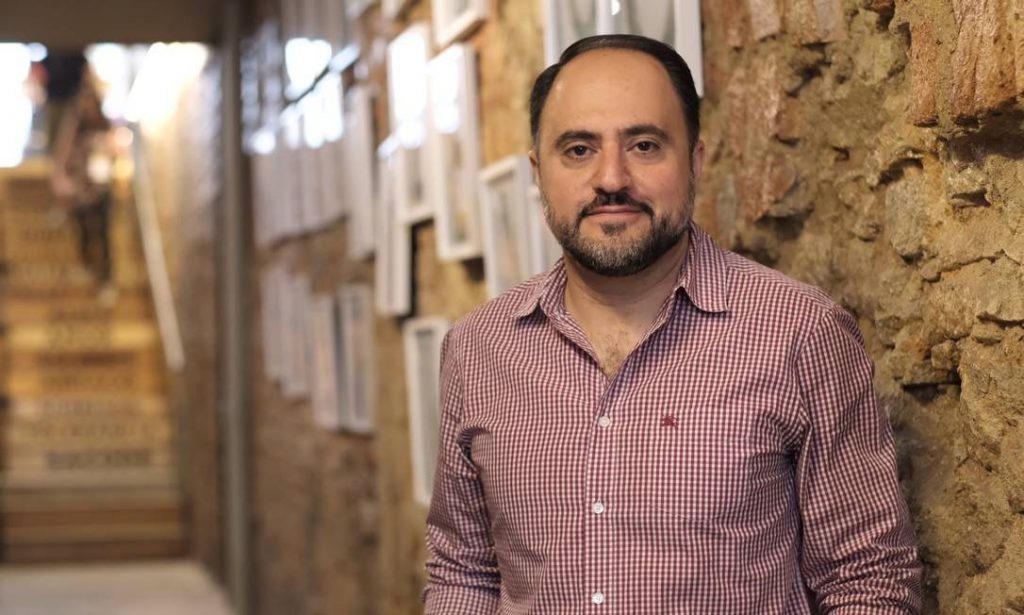 In more than 3 years, the Yemen conflict has caused nearly ten thousand deaths, according to the UN. There are now more than 1.8 million children suffering from malnutrition, more than 400 thousand of these are suffering severe malnutrition. Where else are children dying from starvation?
The biggest problem, as you say, are the children that don't receive enough nutrition in the first thousand days of their life. Babies in South Africa, for example, don't receive the necessary nutrients for the development of their brain, which dies. However, it is not only in Africa. In Venezuela, 23% of children don't have enough nutrition. In South Sudan, it is estimated that one in every three families need food urgently. In the state of Borno, Nigeria, it is predicted that 300 thousand children will have severe acute malnutrition by 2018.
Last year the United Nations intensified its assistance programmes in Yemen in order to provide food to 14,000 inhabitants, almost half of the country's population, threatened by hunger. What went wrong?
We all know who the main terrorists are, and all of these cells use food terrorism. Taking something and then giving it back is the cheapest trick in a war. Since people are desperate they can't fight because they do anything to eat. Some autocratic regimes starve the population and make food inaccessible and expensive.
"Hungry, you can say yes and kill someone. And, if necessary, you leave your country. Food in exchange for control is the easiest way to control." Saman Sahil, Social Gastronomy specialist
Only 45% of health facilities work in Yemen. In the city of Hodeida, the water system is close to collapse, threatening nearly half of the population. Does lack of water kill as many as lack of food?
Lack of water kills, climate change, but also humans are responsible for this. Yemen is heading to disaster. In Syria, water levels were very low, and the government allowed people to withdraw it anyway, further worsening the shortage.
What is your opinion on Venezuela?
Everyone knows what is happening in the Middle East, but no one knows what is happening in Venezuela. The most difficult situation today is that of Venezuela because it is not a struggle with other governments, there is only one focus: controlling people. In the Middle East the conflict is among themselves and sometimes against Russia, and we can enter. However, in Venezuela everything is hidden. The government does not report anything to the international community and it doesn't accept foreign aid. Furthermore, the embargo is worsening the situation.
How has the international community acted?
In the Middle East, it wants to teach people how to be self-sustaining. Even if in the refugee camps, some groups enter undetected, because nobody can know that they are there, or their members die. They then present themselves as refugees and teach people how to grow their own food, appropriate to the local conditions and how to use this food to cook, use as medicine and create. From there the refugees gain more autonomy and it brings together the community to no longer depend on governments or terrorists.
And humanitarian aid?
They don't have weapons, so they can't do much. Generally, they work in shops run by the military who are constantly on the move for security reasons. This doesn't mean that the World Food Programme doesn't put their lives at risk. The international programmes are helping, but it is very difficult to access these areas because governments block them off.
How can businesses like yours, FiscalNote, contribute?
With technology. One of the first steps is to look at historical trends and relate them to now in order to predict. Predicting is the solution to the problem, it can remove people from their territory and save food. We have been developing solutions with this in mind in order to overcome the situation faster. There is an infinite amount of data that is circling, and companies, like FiscalNote, gather information by asking a series of questions by machine. Then the responses start to emerge. If the machine identifies a repeated statistic, it sounds like an alarm, and points out risks or opportunities.
In the horn of Africa, drought is another important factor: the death of livestock in Somalia has devastated whole communities. How can technology help?
The easiest way to look at this is to think of an issue that manifests itself in every situation. We gather information from networks, politicians, regulators and other academic sources, our computers then catch any information that reasonable. Then through this process it filters through the information to keep only relevant data. The team at the office then looks at the data with regards to the question and they start working together. From science to planning, you can pinpoint the actions and the audience that will be engaged. You should talk with this business, this NGO, this person. This way we will create coalitions. Everything is continuously updated, in real time. We measured metrics, and metrics with whom you engaged.
What is the role of social gastronomy in conflict situations?
It looks to the international community as a platform that represents voices that are not normally heard. There are many projects that focus on education and conflict, in making food more accessible and healthier. We support people who cannot stand alone. We, in fact, go to the refugee camps with a desire to change that reality.
Free Translation by Gastromotiva: https://oglobo.globo.com/mundo/terrorismo-alimentar-central-conflitos-contemporaneos-diz-economista-curdo-23391922